In August 2014, 23-year-old IDF Lieutenant Hadar Goldin was kidnapped and killed in Gaza by Hamas terrorists, just two hours after a cease-fire was declared at the conclusion of Operation Protective Edge. Nearly eight years later, Goldin's parents, Leah and Simcha Goldin, are still waiting in agony for the return of his body for burial in Israel.
Hadar's story is shedding new light in Greater Philadelphia as part of a traveling exhibit, which showcases the late soldier's prolific artistic talent.
Funded by the Jewish Federation, in partnership with Kaiserman JCC, the Consulate General of Israel in New York and the Hadar Goldin Foundation, "Hadar Goldin: The Final Peace" is open to the public through June 17 at the Kaiserman JCC in Wynnewood.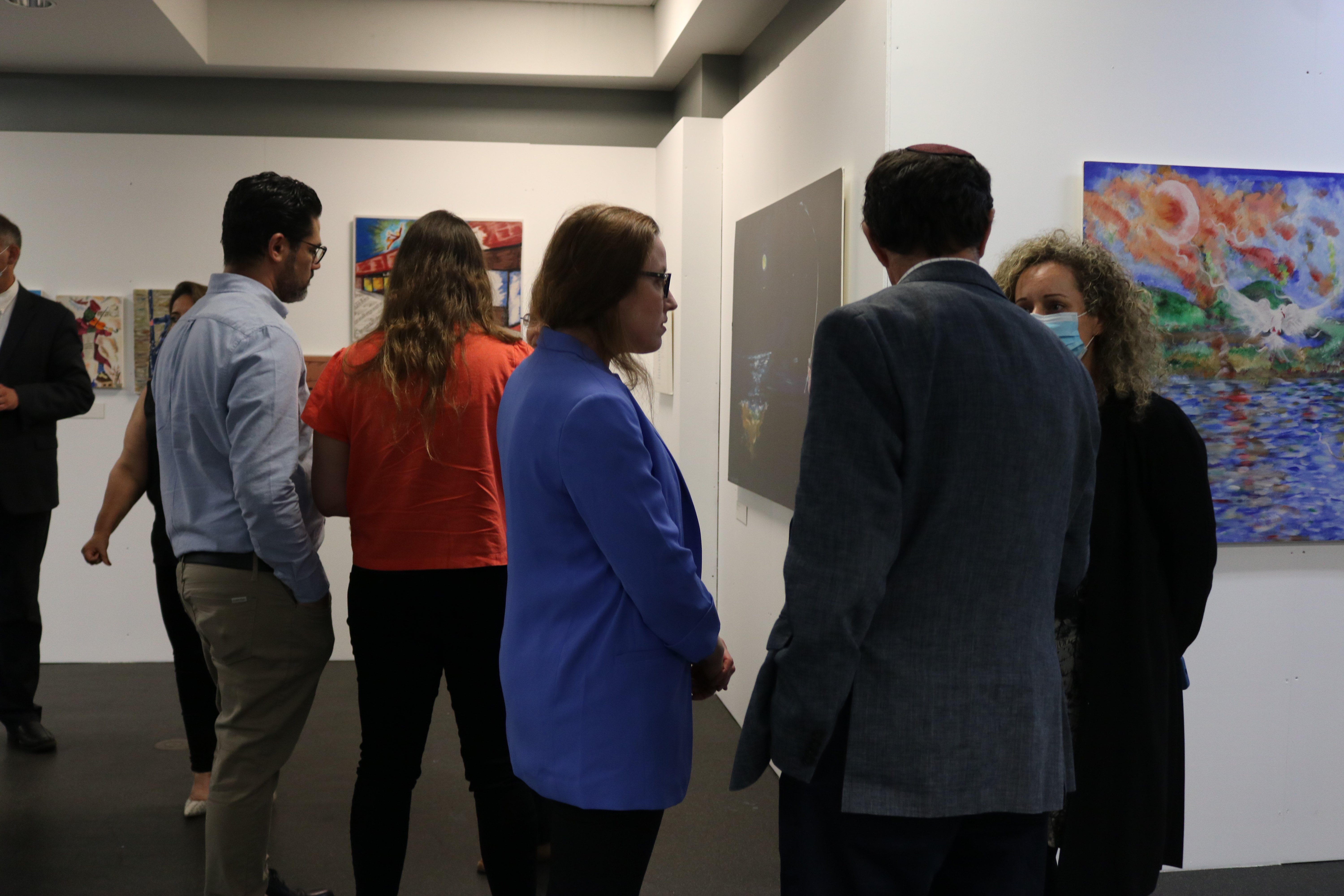 The exhibit opened June 1 and will run through June 17 at the Kaiserman JCC in Wynnewood. Courtesy Consulate General of Israel in New York
Following the recent uptick in terror attacks in Israel, this exhibit comes at a much needed time to not only celebrate Hadar's artwork, but also raise awareness about Hamas' control of the Gaza strip and the Israelis who have been held captive by them.
"I hope that people who visit this exhibit will join in the effort to bring Hadar home from Gaza after eight years, and help bring peace to Hadar, peace to his family, and peace to the world," said Leah Goldin, who along with her husband and children, continue to hope, advocate and fight for the return of Hadar and fellow slain soldier Oron Shaul.
The exhibit's opening on June 1 included a private briefing and conversation with local legislators about Israel's challenges in dealing with Hamas in Gaza. Reut Baror, Kaiserman JCC board member; Alan Scher, Kaiserman JCC CEO; and Danielle Weiss, Jewish Community Relations Council Chair welcomed guests during the program and discussed the importance of bringing this opportunity to the community.
The reception featured remarks by Ambassador Asaf Zamir, Consul General of Israel in New York; Maya Karkai, the exhibit curator; Leah Goldin, founder of the Hadar Goldin Foundation; and William Daroff, CEO of the Conference of Presidents of Major Jewish Organizations.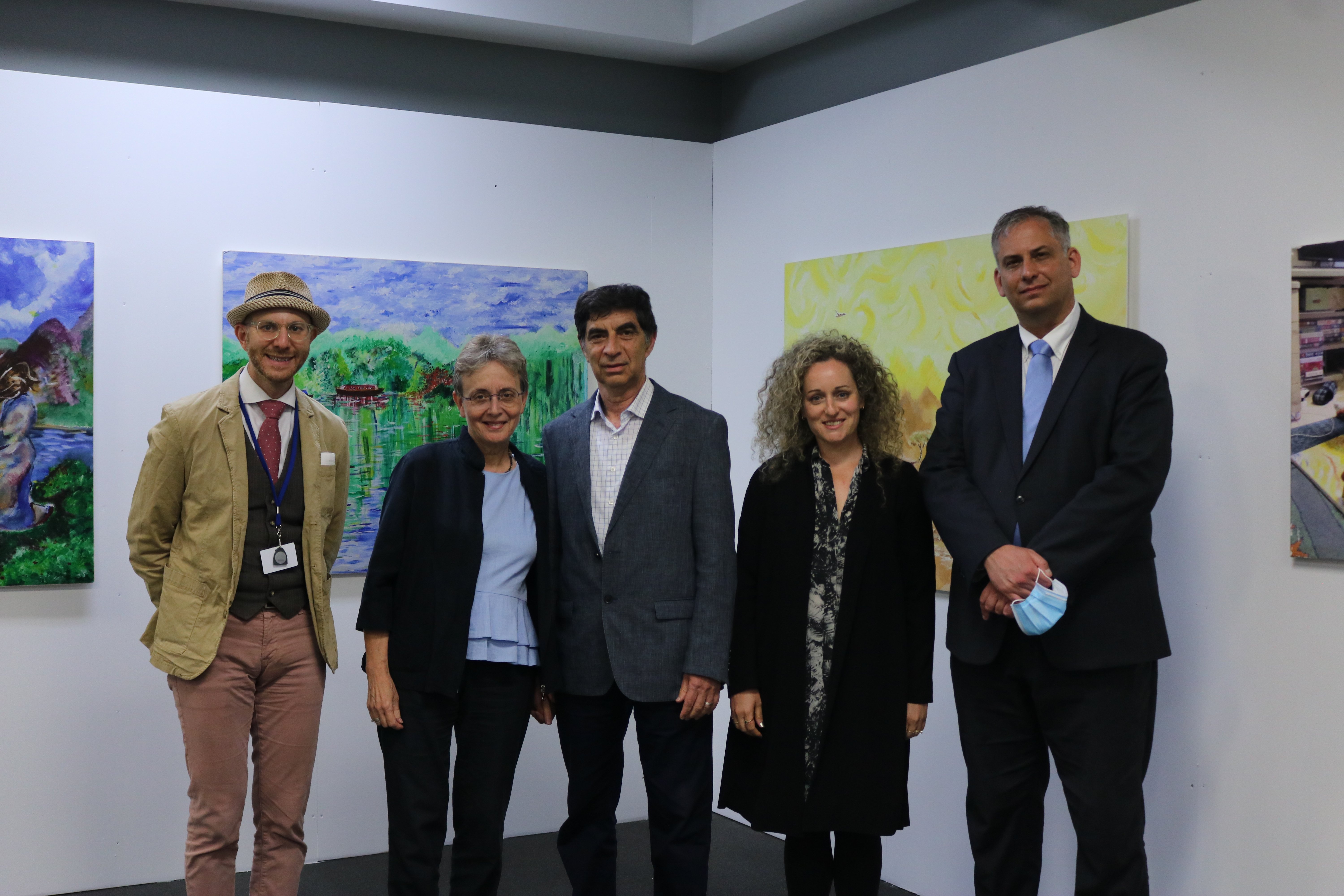 From L to R: Alan Scher, Kaiserman JCC; Leah and Simcha Goldin, Goldin Family Foundation; Maya Karkai, the exhibit curator; and Israel Nitzan, Deputy Consul General at Consulate General of Israel in New York. Courtesy Consulate General of Israel in New York
"We were honored to host the Goldin family and an exhibit of Hadar's artwork in Philadelphia," said Jason Holtzman, director of the Jewish Federation's Jewish Community Relations Council. "The situation that the Goldin family has been dealing with since 2014 is truly heartbreaking."
Hadar's story is of special importance to the Jewish Federation as the incident took place in the Sagaiya neighborhood of the organization's Partnership2Gether region in Netivot and Sdot Negev, just miles from the Gaza Strip. The region's communities have rallied behind the family's efforts to advocate for Hadar's return, including members of Kibbutz Alumim. Located directly across from where this horrific capture took place, the kibbutz named a playground in his memory.
"We think raising awareness of the fact that Hamas has been holding Hadar's body as well as the body of Oron Shaul and two other Israeli civilians is greatly important for people to understand," Holtzman continued. "We want to see Hadar and the others returned home immediately."
Experience "Hadar Goldin: The Final Peace"
The traveling exhibit has been presented to the United Nations, featured around the world and is now on display for the Greater Philadelphia community. In addition to general touring hours, the Jewish Federation and JCC are hosting two special programs as part of the exhibit, offering even more thought-provoking experiences.
"As a hub for Jewish life in Philadelphia, the Kaiserman JCC cannot be more proud to host this exhibition," said Alan Scher, CEO of the Kaiserman JCC. "We are ultimately in the business of catalyzing and showcasing Jewish stories, and Hadar's is one all our community should know. At a moment when many across Philadelphia are wrestling with the impact of violence, identity politics, and how to live an ethical life, we believe the Final Peace does what one hopes great art can accomplish – inspire dialogue, and ultimately action."
Israel & Jewish Life on Campus: The Latest Trends with Dr. Noam Weissman & Gabe Greenberg
Tuesday, June 14 | 7:00 p.m. – 8:30 p.m.
Dr. Noam Weissman, Executive Vice President of OpenDor Media, and Gabe Greenberg, Executive Director of Penn Hillel, are leading a discussion about the latest trends regarding Israel and Jewish Life on campus. This workshop will give students tips on how to create engaged and meaningful dialogue about Israel and being Jewish on campus, inside and outside classes long before they get there. It will also introduce parents to the challenges students face today. To register, click here.
Theatre Ariel Presents Songbirds and Pomegranates
Wednesday, June 15 | 7:00 p.m. – 8:30 p.m.
Enjoy actors from Theatre Ariel perform Songbirds and Pomegranates. With texts and music curated by Deborah Baer Mozes and Jesse Bernstein, the show reflects on the life, artwork and legacy of Hadar Goldin through a dynamic reading of poetry, theater and contemporary Israeli folk and pop music. To register, click here.
***
For more information about

"Hadar Goldin: The Final Peace"

exhibit, including touring hours, please click here.