Ever since participating in NextGen's Leadership Development Program (2014-2015), Tori Rultenberg has been a tour-de-force in the Jewish community. As NextGen's Mitzvah Co-Chair, Tori is passionate about making the change we want to see in the world.
Tori has been leading the charge with Sara Arch, NextGen's Mitzvah Co-Chair, in spearheading Letters From the Heart. Created during the pandemic, Letters From the Heart is a (virtual) traveling volunteer opportunity that highlights different Jewish Federation supported organizations and connects volunteers to clients through cards. This past winter, they brought together NextGeners and over a dozen cross-generational community groups to create more than 1,1000 Hanukkah cards to be included in the Jewish Relief Agency's food distribution.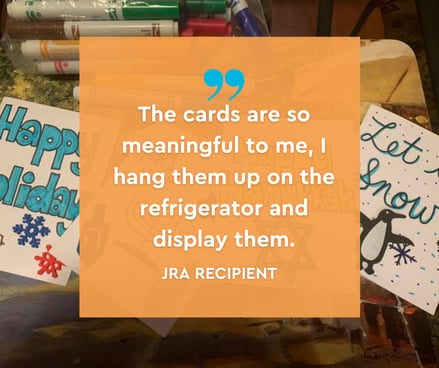 A JRA recipient's response to their card. Image courtesy: JRA
Now, Tori and Sara are back at it this spring with the Mitzvah Food Program (MFP), Jewish Federation's choice-based food security service. This time, they and the host committee (Adam Dembo, Jonathan Fink, Rachel Forth, Alex Freedman, Hope Markman, Ariel Miller, Issa Kabeer, Lauren Kessel, Irene Tenenbaum, Brittney Tuff and Tyler Weiss) have a goal of collecting 2,000 holiday cards for MFP's March food distribution.
"Chairing the Letters from the Heart initiative is important to me because, now more than ever, we need to reach out a hand to those who feel alone, missing family and just need a reason to smile," said Tori, a Social Events Sales Manager at VUE on 50. "The small gesture of a card can make someone's day."
People can register here to make cards on their own and/or virtually together at NextGen's kickoff call on Tuesday, February 9th at 6:00 p.m. During the event, participants will connect, craft cards and learn about MFP's vital work.
"It's been so nice to see how many people get involved in this project," Tori added.
NextGen chatted with Tori to learn more about her and her relationship with the Jewish Federation:
What are three fun facts about you?
I have a cat named Rosalita.

I am an aunt to an adorable niece and nephew.

I've become an Uno champion during quarantine.
Throughout your leadership journey in the Jewish Federation, what has been one of your most memorable experiences? Why?
Israel360 was an amazing experience! I loved being in Israel, learning about all of the programs the Jewish Federation supports, and making new friends.
What is an organization, program or cause that the Jewish Federation supports that personally resonates with you? Why?
NextGen Rebuild was something I will never forget. Being able to meet the person who you were helping and seeing how thankful they were for the home repairs was amazing.
What advice would you give to someone who is just starting to get involved in NextGen?
To just try different things! Go to different types of events, talk to as many people as you can. It's a great community to be a part of.
***
To get involved with Letters From the Heart, click here. NextGen is the young professional affinity group of the Jewish Federation of Greater Philadelphia. To learn more about NextGen, email Max Moline at mmoline@jewishphilly.org and friend us on Facebook.