As a land full of stories, hope and technological advances, Israel has accomplished a lot in the 75 years after its establishment. But for all of its achievements, there are still many misconceptions in the local community about the day-to-day life of those who live in the country. This challenge is what Venture Israel Fellowship, run by the Jewish Learning Venture (JLV) and supported by the Jewish Federation of Greater Philadelphia, is trying to solve.
In its pilot year, the Venture Israel Fellowship is composed of 10 Jewish professionals who are eager to create robust and engaging programming to connect Israel to the Greater Philadelphia community.
"Launching this fellowship in the same year as Israel's 75th anniversary allows us to acknowledge that Israel has changed from her founding and there is so much more to learn and grow from," said JLV's Chief Executive Officer Elana Rivel.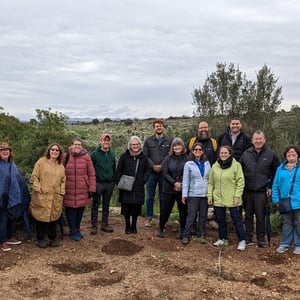 The intensive 13-month program includes one-on-one consultations, seminars, group work and meetings with prominent leaders about Israeli culture, society and politics. Rivel explains that these sessions provide building blocks for fellows to gain essential tools to design and deliver their own innovative Israeli educational experiences.
In February, the cohort had an opportunity to travel to Israel for a week-long educational seminar. During this mission, they visited sites in Jerusalem and Tel Aviv, and met with top leaders in religious, social and educational fields.
Ranging in background and years of experience, the cohort included participants who have never been to Israel before, frequent visitors and people who were born in Israel.
"The Venture Israel trip fundamentally changed my relationship with Israel as an American Jew for the better," said participant Julian Morein, the Jewish Federation's Jewish Community Relations Committee (JCRC) program associate. "Throughout the week I felt like a sponge soaking up knowledge. We met with people who represented the many faces of Judaism. We heard perspectives from the left and right, and I felt that I was truly getting a comprehensive picture."
A "comprehensive picture" was the goal for JLV's Chief Program Officer Gabrielle Kaplan-Mayer when organizing the trip.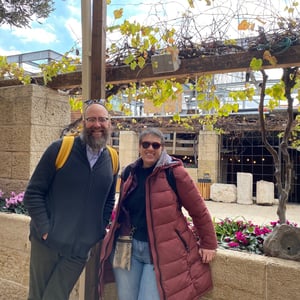 "We wanted to create an opportunity to experience Israel at 75 that reflects the dynamism and diversity that is contemporary Israel – with all of its beauty and challenges," said Kaplan-Mayer.
According to Kaplan-Mayer, the fellowship is designed to help educators address the fear of disagreement around the Middle East that has stifled learning through open dialogue.
"The cohort gives me hope that we can hold different perspectives – and even disagree in ways that can bring us closer," explained Kaplan-Mayer, who is a facilitator of the fellowship with Jonathan Ariel of the Hebrew University of Jerusalem. "This fellowship is a powerful investment from the Jewish Federation of Greater Philadelphia, and we appreciate their partnership and trust in [JLV] to help build this pilot program."
As a capstone project, the fellows will create three public programs around the holidays of Yom Ha'Atzmaut, Sukkot and Tu B'shevat. Following the program, fellows will be eligible to receive scholarships for a Master of Arts in Jewish Education at the Hebrew University.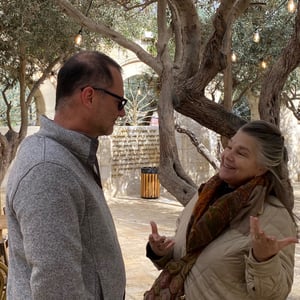 "One of the Jewish Federation's top priorities has been and continues to be connecting with Israel and global world Jewry," said the Jewish Federation's Associate Director of Israel and Global Strategies Beth Razin, who helped craft the program and staffed the trip with Rivel and Kaplan-Mayer. "This fellowship is inspiring educators who will impact the lives and minds of countless people and their relationships with the land of Israel."
***
Want to show your love for Israel? Join the Jewish Federation for four community-wide celebrations this April and May. Learn more by clicking here.